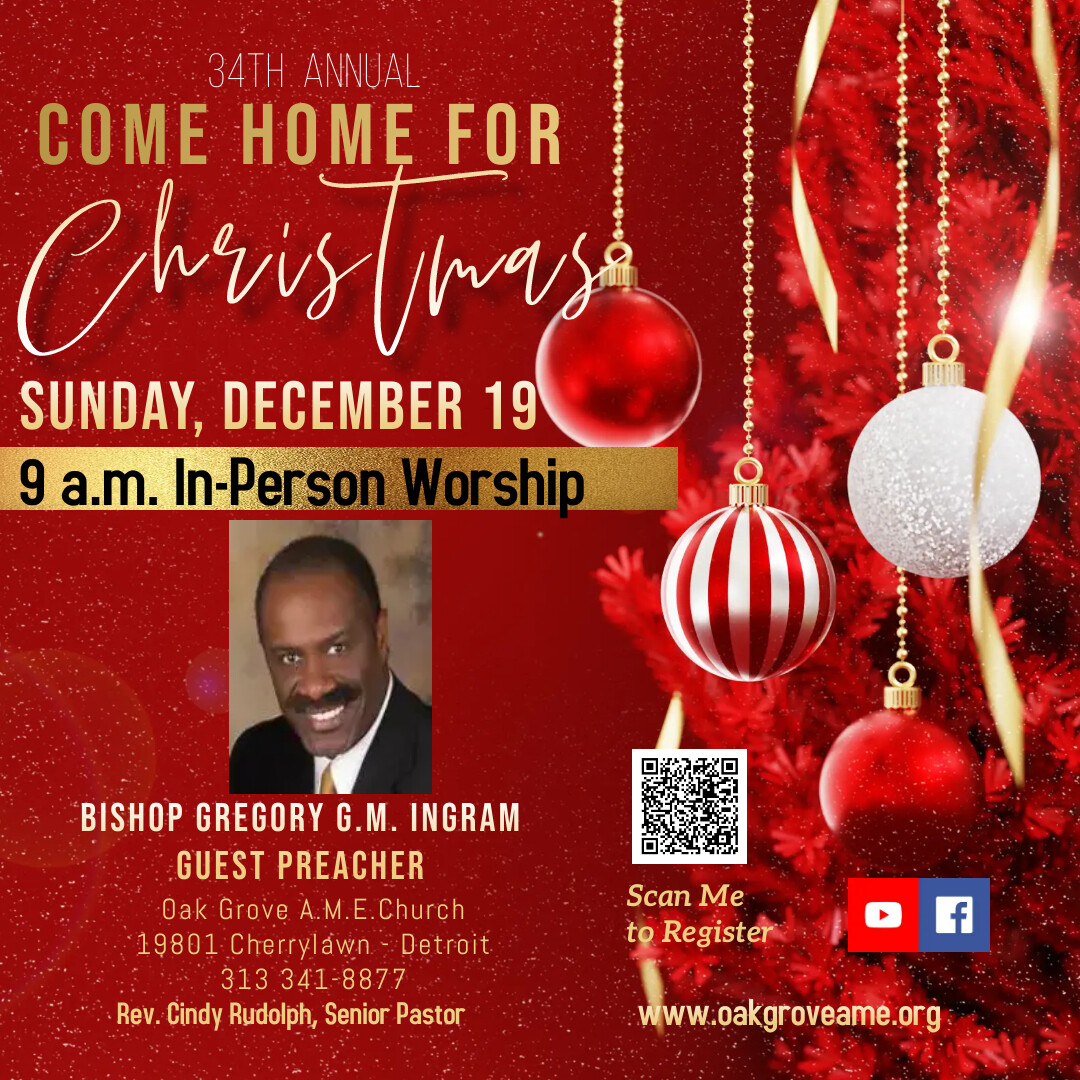 December 19, 2021 9:00am
This Worship experience will be the culmination of our Christmas Disciple experience.
We will be blessed to hear a Word from Bishop Gregory G. M. Ingram. You will hear our final report from Sis. Lorri Lewis, our CHFC chair.
Please join us!
=============
Our Church School begins at 8:45 a.m. for Grades K-12. Pre-registration is required.

There will be one Worship Service at 9 a.m. Please plan to arrive at 8:15 a.m. Pre-registration is required.
Registration for both is now open. You may register with our app that is available in the Google Play Store or the Apple App store. In addition, you may call the church, 313 341-8877, or send an email to info@oakgroveame.org. If you arrive prior to 8:15 a.m., you will be asked to wait in the Mitcham Fellowship Hall until 8 a.m. when the sanctuary seating will open.
Registration Link for Church School - 8:45 a.m.
https://www.shelbygiving.com/App/Form/2061521d-85a3-4781-955d-930023ed201c

Registration Link for Worship - 9:00 a.m.
https://www.shelbygiving.com/App/Form/71b4f1cb-2b42-40c6-97fc-5bddd583c06e

There will be adherence to safety protocols. This means that you must keep your mask over your nose and mouth at all times while in the church.
Our live-stream broadcast will continue. It will be broadcast at 9 a.m. and will also available "On Demand" on our Facebook and YouTube channels.